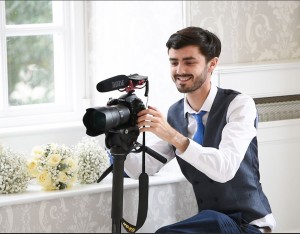 I have lived in Torbay all my life and love living by the sea. Growing up in
a beautiful coastal town has inspired my passion for photography. You can usually find me exploring beaches and coastal pathways, with my camera to hand, searching for that perfect picture.
I have always had dogs in the family and absolutely adore them, so it is only natural that one of my specialisms is pet portrait photography. I believe that pets are as individual as people, and I aim to capture that unique personality in a portrait.
I've been into music from an early age, and I play guitar and drums in my local church band. I love to combine the power of music with my filmmaking to help drive the narrative and have a lasting emotional impact.
Attending church since childhood has meant that I've grown up experiencing many different weddings, from traditional hearts and flowers to the more quirky and avant-garde. I've even played Brian May style solos at a few. I really enjoy everything about weddings, from the exchanging of vows to the celebration, and take great pride in recording them through photography or film. It is an honour to be able to capture those precious memories for the couple.
This has led me naturally to event photography. From special occasions, family gatherings and birthday parties, I can capture those special moments. As well as taking the traditional posed photographs of people, I love a candid approach to photographing events, with people relaxed and having fun. I use a similar spontaneous style at different times throughout a wedding, as I find this works really well, resulting in images that will bring back the highlights of the day.
---
BA (HONS) First-Class Honours Degree in Media Arts
Foundation Degree with Distinction in Film and Photography